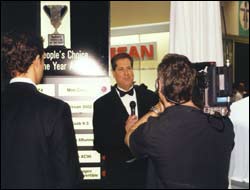 Founder, David Breslow reports to the media moments before he unveils the People's Choice Car of the Year.


David Breslow
Biography

As a professional auto critic, auto buying consultant and entrepreneur, David Breslow is the Founder/Director of The People's Choice Car of the Year Awards. He has spent most of his adult life advising people on the best cars and trucks to buy.

In addition to a BS degree in business and marketing at the University of Southern California, David has completed a two-year program at UCLA receiving certification in broadcasting and journalism. As an experienced broadcaster, he is an outspoken and candid advisor to the general public about the best cars and trucks for more than 18 years. David has made over 450 television and radio and guest appearances ranging from CNN, KCBS, KNBC to KABC TV and talk radio, co-hosting a weekly Car Show on KGIL.

David's popularity on talk radio led to a regular television-reporting job with Fox Morning News, producing creative feature segments specializing in automotive topics, called "CARTALK®." His informative and entertaining, music-driven style increased ratings an average of 35 percent. Southern Californians have a passionate love for automobiles, and that love was reflected in the ratings for CARTALK®.

In December 1998, David launched "The People's Choice Car of the Year Awards." The award is unique because car and truck enthusiasts are "The People" who finally have the opportunity to decide and vote for their favorite new vehicle among a selected list of the best "all new" vehicles nominated by David. This is a significant and highly coveted award by automakers because the winner is determined by the car-buying public. The beautiful silver cup trophy award is presented and proudly received by the winning automaker at The Greater Los Angeles Auto Show each year.

David has personally owned 46 cars in the last 30 years. He is a member of the Motor Press Guild, an elite group of distinguished automotive journalists and critics provided with special access to test-drive more than 50 new cars and trucks each year on high-speed test tracks, off-road courses, and everyday streets.

In his free time, David enjoys power boating to Catalina Island, golf, tennis, cycling, and of course, keeping up on the trends of his industry. David resides in Long Beach, California with his wife Jennifer, where he parks his latest "long term test vehicle," a 2000 Jaguar XJ8 with the license plate "CAR INFO,"and his wife's 2001 Mercedes Benz E320 Sport model. On sunny California weekends, David and Jennifer enjoy driving their 1992 Alfa Romeo Spider convertible.