The People's Choice Car of The Year Awards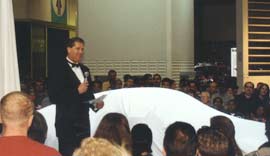 Each year at The Greater Los Angeles Auto Show, an eager crowd gathers in anticipation of unveiling the winning vehicle and presentation of the Silver Cup Trophy.
Welcome to our sixth annual The People's Choice Car of The Year Awards starring the all new 2004 model year vehicles.

This award is unique because it truly represents "The People's Choice" for your favorite new vehicle. You help decide the winner among the very best models nominated by our Founder and professional auto critic, David Breslow.

The People's Choice Car of the Year Awards is an independent awards administration program. Winning vehicle gladly available courtesy of the proud and very appreciative automaker to one selected voter from each vehicle category Free for up to 7 days.
The vehicles are selected for nomination upon results of evaluations from a variety of tests including performance and handling evaluations.

All qualifying vehicles for nomination are a result of careful consideration subject to the following guidelines.
The vehicle must be "all new" or substantially revised.
Some of the many factors evaluated include dependability, overall quality and the vehicle's fit and finish.
The vehicles' performance and handling characteristics.
Exceptional styling and excitement.
Because delivering value is important to car buyers, the value of the vehicle based on the manufacturer's suggested list price also weighs heavily in the final criteria to receive nomination for The People's Choice Awards.
Please participate by becoming one of our judges and when you e-Vote, you Win a Free chance to be selected to receive an opportunity to drive The People's Choice Car of the Year Awards® winning vehicles absolutely Free!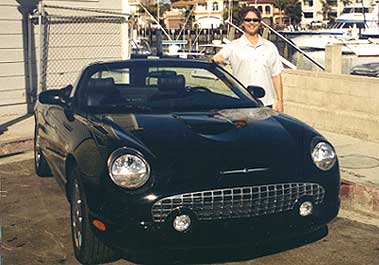 Kenn Fogg of Newport Beach enjoyed free use of the 2002 People's Choice Car of the Year winner, the Ford Thunderbird, courtesy of Ford Motor Co. Needless to say, Mr. Fogg reluctantly handed over the keys at the end declaring, "I love this car, I'm really going to miss it. I think I'm going to have to get one."